Hands to Knees Abdominal Exercises
The hand to knees abdominal exercise is a suitable abdominal exercise for beginners. Read our notes carefully before you try and make sure you do this exercise smoothly to get the full benefits (and to prevent you pulling a muscle).
Remember, if you're a beginner you should read our notes on correct abdominal technique before you start.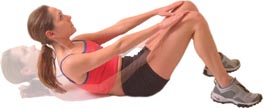 Rest your hands on your thighs, and slowly slide the hands along your leg, up towards your knees.

Control the movement on the way down, remembering the slower you work, the harder the exercise.

Keep your chin off your chest, and if your neck aches, support your head with one hand.

Concentrate on controlled smaller movements, aiming to feel your abs contracting rather than using momentum to force into the movement.

How many reps do I do?

BEGINNERS AIM FOR 8 / 12 LIFTS REPEAT TWICE

INTERMEDIATES AIM FOR 15+ LIFTS REPEAT TWICE

ADVANCED AIM FOR 20+ LIFTS REPEAT THREE TIMES

Do you have any other abdominal exercises?

We have a complete range oif simple abdominal exercises for you :

bridging exercises, knees to chest, abdominal crunch and hip flexor as well as a range of other useful pages of content like aerobic training, exercise to lose weight, stretching, fitness testing, exercise programs, techniques for stretching, fitness exercises, aerobic exercises and Strength training