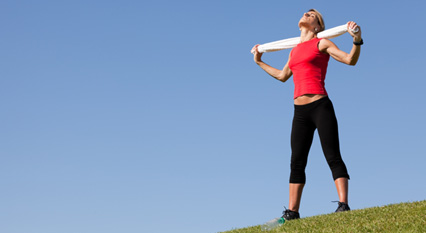 Fitness
Fitness
With a selection of the latest fitness tips, gym exercises, workout plans and general fitness tips, the netfit.co.uk collection of over 1,500 different strength and fitness exercises is a great place to start. With our fitness testing section enabling you to establish your current fitness levels, simple tests can be used to show you how you're improving. So from gyms in hotels, to using our 100 different free home exercises your choice to find out more with netfit.co.uk is evident.
FEATURED CONTENT
Start with the basics and work out your fitness level using resting heart rate.

Help prevent injuries, by cooling down after a strenuous workout with our simple stretches.

Workout your core with some great abdominals exercises that focus on your stomach and sides.
HOME WORKOUTS

We've pulled together some great home workouts - all of which include simple exercises to get started.
» Hamstring Curls
» Upright Rows
» Shoulder Press
» Sit Ups
» Dumbbell Curls
» Skipping
LATEST ARTICLES

Read the latest news and guides about fitness