Netfit E-Books
DUE TO THE SOFTWARE COMPANY THAT WE USED HAVING SOME TECHNICAL ISSUES, WE HAVE TO SEND OUT THE EBOOK UPON READING YOUR PURCHASE EMAIL - . SORRY ABOUT THE DELAY IN GETTING YOUR EBOOK, WHICH ARE NORMALLY SENT WITHIN A FEW HOURS OF UK WORKING HOURS (9AM - 11PM) REGARDS ROSCOE.
The Netfit Team have created a number of different eBooks on subjects such as abdominal exercises to weight loss. These eBooks are available to download in both PC and MAC formats.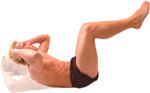 No other book will offer you a greater selection of abdominal exercises and workouts suitable for all fitness levels. Click here to find out more about what this great eBook has to offer.







If your serious about improving your sporting game and want to learn the secrets to greater explosive muscle power, then this plyometrics eBook will teach you how to gain massive improvements in upper - lower and core body strength. Click here to find out more.







Over 100 different stretches and 40 different warm up routines for both sports and everyday life, including back care and mobility exercises. A massive resource of information for those that want the benefits associated with stretching, click here!







Learn the truths relating to why your diets are always going to fail you in the long term - short term rapid weight loss leads to rapid gains and poor health and skin tone. All you need to know about correct weight loss and why your previous diets have let you down, is just a click away!

We use PayPal to take payments through one of the most secure systems that gives you total protection.