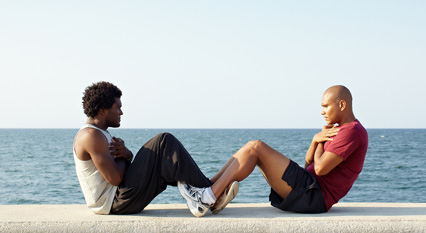 Quizzes
Quizzes
Welcome to the Netfit.co.uk quiz section. Here you will be able to test your fitness knowledge on a complete range of fitness - sporting and anatomy quizzes. The questions will vary in difficulty, so even if you think that you know your stuff, you may be surprised if you get some of the questions wrong. Boost those little grey cells, you never know how handy some of these trivia facts will become, especially if taking part in a sports quiz.
FEATURED CONTENT
Do you know how to workout your abs the right way? Want to optimise your training regime?

How much do you know about football? Not so much a test of fitness, more a bot of fun!

From the basics like clubs in your bag, through to famous players and courses. Test your knowledge now.
WORKOUTS
What do you know about sports? From running to rugby or tennis, why not see how much you do know with our fun quizzes :
» Abdominal Exercises
» Cricket Quiz
» Cycling Quiz
» Swimming Quiz
» Tennis Quiz
» Triathlon Quiz
LATEST ARTICLES

Read the latest news and guides about quizzes