Fitness & Exercise Tips
Want to get some great fitness tips and sound exercise tips from industry experts. From training to workouts, we have over 4000 pages of fitness and exercise tips and guides to help you for FREE.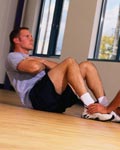 Welcome to our fitness tips and exercise tips section where you will can find a selection of gym exercises which have been taken from our members database, which has over 1,500 different exercise's to help you achieve your fitness goals regardless of your current fitness level.

The fitness testing section will help you establish your current fitness level, with simple tests to show you how your improving.

Stretching advice will help you prepare and prevent injury, with the members area having over 200 different stretches alone (should be enough to prevent that pulled muscle or tendon!)

Learn a few samples of strength training and understand the importance of finding your correct aerobic training levels in the strength and aerobic sections.

You don't need to have expensive gym equipment or membership to a health club, however before you buy you may want to read our advice.

Getting stuck with the terminology, then the glossary section will help you.

So why not check out some of the following pages including aerobic exercises and aerobics for fitness, how to get fit and how fitness testing can help ensure you start your trainign the right way! So if starting out with stretching and then warm up exercises and other warm-ups you can start your strength training and working out.