Cardiovascular Exercise
Want to find a FREE cardiovascular exercise to help improve your cardio fitness? With our detailed pages on a range of cardio workouts, we've got everything you would need to get super fit! Start your search now.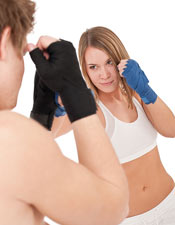 If you're looking for cardiovascular exercises for the heart and lungs, why not let the netfit.co.uk website help you get started. Cardiovascular fitness is considered by many, to be the most important area of physical fitness.

Heart disease, the number one killer in our society, can be greatly reduced by those who exercise both their heart and lungs on a regular basis. Reading the notes on aerobic training will give you guidelines on how to exercise at the correct level.

Alternatively why not try some other exercises that will help your cardio fitness and improve your cardiovascular function including indoor rowing, running, cycling, versa climber, stepper, cross trainer and recumbent bikes.

As well as the activities above, we also provide some great advice and tips for strength training and strength workouts, aerobic training and aerobic exercises, some simple fitness exercises including fitness testing, exercises and of course advice on stretching muscles and stretch exercises. Find out more with Netfit.co.uk.