Skipping Exercise
Why do you think various skipping exercise routines are used by boxers! A great workout and completely cardio drive, skipping rope exercises offer a great workout with little outlay financially.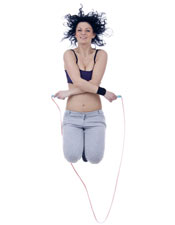 Did you know that skipping exercise is an excellent form of fitness that requires minimal equipment, i.e. a skipping rope.

If you want to learn how to rope skip, then it really is straight-forward, To help prevent injury, you should aim to skip in trainers, ideally on a sprung studio floor and skipping to music, combining different foot combinations and also adding circuit exercises will prevent you becoming bored.

When skipping aim to keep your elbows tucked into your sides, with the rope turning around smoothly in your wrists. A common mistake is to lean forward, or skip too slowly. Both of these result in the rope being caught by your feet.

Keep your back straight, and for beginners jump two footed only a few inches from the floor.

Alternating feet when jumping is easy to learn, aim to jump a few times on one foot, then try the other foot. Soon you will be able to go from one to the other without catching the rope.

Whilst skipping, the rope should ideally be tight, and if jumping at speed, aim to have small jumps, with the rope close to your head.


So s well as theping rope exercises or even learning how to skip, why not find out more about other equipmnent and sports like rowing, running cycling, versa Climber steppers, skipping, cross trainers and Recumbent bikes
As well as the exercises above, you alos need to think about stretching and stretch exercises prior to any aerobic exercise or fitness work. You can also check our other pages on aerobic training, getting fit and strength training. Go on have a good rummage through our site.