Summer Workout
What do your summer workouts look like? Changing what you do with the seasons is a great way to keep your mind and body fresh, allowing you to enjoy different activities at different times of year.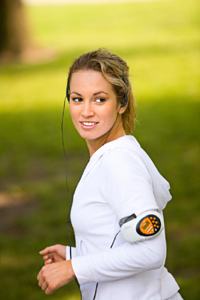 In general, summer workouts are a great excuse to get outdoors. Whether you enjoy running or walking, riding a bike, or playing sports like tennis, summer is the time to enjoy being outside.
And with research demonstrating that simply being outside among the trees and the grass can make you feel better, these outdoors workouts will really improve your well-being.

However, for some people, summer workouts bring a different problem – heat.
While most of us look forward to the hot days of summer, for others sun and high temperatures are something to be avoided.

If this is the case you need to plan your workouts more carefully. For the heat or sun sensitive, there are several strategies you can adopt in the summer:
Work out indoors in an air-conditioned gym – you'll stay cool no matter how tough your workout.
Work out early in the morning or later in the evening – the sun won't be as fierce and temperatures will be lower.
Choose "cool" workouts like swimming – even for the heat sensitive, a refreshing swim can be a good summer workout option.
Other summer tips include modifying your diet. Summer is the time for a light diet, avoiding fried foods and heavy meals. You'll want to focus on salads, and refreshing fruits like fresh berries, or cool, refreshing melon.

This is also the time to up your fluid intake – we all know that drinking lots of water also helps you stay hydrated, so opt for cool, iced drinks to keep your body hydrated and cool.

Finally, you need to think about the workouts you will do when you are on holiday. While some people see their summer holiday as the chance to do nothing for a week or two, others prefer to use it as an opportunity for some new and interesting workouts.

Outdoor exercises on the beach, whether it is a game of volleyball or just a long walk, will work the legs – especially the calves – and ensure that the extra eating that seems to accompany most holidays doesn't lead to you bringing some excess baggage back from your holiday!

Whatever you choose, try to use this time of year as a way to say goodbye to your usual boring workout routine and give yourself something to get excited about.
comments powered by

Disqus