3 Health Giving Spas
Everyone needs to get away from it all once in a while. Visiting a spa is certainly one fun way to do just that. However, certain people may wish to relax in a way that has little negative impact on the environment.
Thankfully, there are indeed many great eco-friendly spas. Below is an overview of three of the best eco-friendly spas you can visit.
Koru eco-spa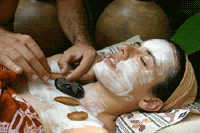 The first on our list of eco-amazing spas is Koru eco-spa. This spa is located on the hidden paradise that is Block Island. Located in the state of Rhode Island, Block Island is surrounded by miles of beautiful beaches and rocky cliff sides.

To go with these lovely surroundings is a wonderful and environmentally friendly spa experience. Spa treatments available include manicures, pedicures, facials, massages, body wraps, and hot stone treatments. Better yet, all treatments are done with completely organic and non-toxic materials.

For our second eco-amazing spa, we're going to go south of border. Located in the city of Chichen Itza in the beautiful Yucatan Peninsula is Yaxkin Spa.
Yaxkin Spa

The beautifully lush and warm tropical surroundings would be enough reason to visit this spa alone. However, the real reason to visit are the one of a kind environmentally friendly spa treatments you are unlikely to find anywhere else.

The reason for this is the fact that all treatments in this spa are based on ancient Mayan traditions. This includes healing ceremonies as well as cleansing rituals. These are more than simple spa treatments. They are cultural and spiritual experiences.
Post Ranch Inn
Last on our list is Post Ranch Inn. This eco-spa is located right on a magnificent cliff side overlooking the waves of the Pacific Ocean in Big Sur, California. This inn is the perfect place to have a luxurious honeymoon, romantic romp, or weekend away from it all.

The spa facilities are a marvel on their own. All buildings in this inn were designed with ultra modern architecture that simply pops visually. The treatments available to guests are out of this world as well. The signature treatment at this eco-spa is a facial that involves the application of pollinating honey actually collected directly from local flowers. This is one treatment you won't find anywhere else and you can consider spa gift vouchers too.

Other soothing and environmentally friendly activities available at Post Ranch Inn include private yoga instruction, mud body wraps, and Thai herbal therapies. Spiritual based treatments are also available, including shaman sessions and Reiki rituals.
comments powered by

Disqus