Get Fit with Tunturi
Exercise plays an essential role in helping you maintain a healthy weight, as well as in preventing many of the deadly chronic diseases, from heart disease and diabetes to cancers, which plague both men and women throughout the world. While the market is flooded with exercise equipment to help you exercise, one particular piece that works as both a strength training and aerobic workout is the rowing machine.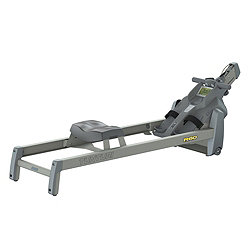 The rowing machines aerobic benefits come from the rowing motion of upper body. This consistent movement increases your cardio-respiratory rate, increasing the body's demand for energy, and burning calories. The strength training comes from both the speed and resistance on the machine, which can be adjusted to fit your personal fitness level on most models. When trying to get fit for summer, there's a wide range of models available, depending on your price range and desired features.
V-Fit Start Hydraulic rower
For a budget rowing machine, try the V-Fit Start Hydraulic rower. This wallet-friendly model features an 8 stage hydraulic resistance adjustment that can be changed to increase or decrease the difficulty of your workout through a simple twist-adjust. This steel-framed model also features smooth action, a comfortable padded seat and handlebars, as well as an exercise monitor with five different functions, including calories burned and strokes per minute.
Horizon Oxford 2 rower
For a step up in price-range, the Horizon Oxford 2 rower uses air for resistance. Air resistance works by increasing the difficulty of your exercise the harder you row. This steel-framed model also comes with a comfortable padded seat, but has the additional comfort of larger pedals for more comfort. The Horizon Oxford also has a longer slide rail to increase the benefit of your workout. To keep track of your workout, this horizon model has a on-board console which can track items like heart rate or distance travelled.
Tunturi R60 rower

When price is less of a concern, consider the Tunturi R60 rower. This Tunturi model provides 16 different magnetic resistance levels which can quickly and easily be adjusted from the handgrip, without having to stop your exercise. This model also has a double rail system, providing more security and stability when using the equipment. The footrests have a swivel action, allowing more natural movement. Like other models, the Tunturi provides an on-board console with 12 different functions from calorie output to workout programs, all on an LCD monitor. The unit is also unique in that it's foldable, making storage easier when not in use.
comments powered by

Disqus