Versa Climber
The versa climber is one of the hardest machines to train on in the gym. Make sure you read notes in the fitness section under exercises / cardio Versa Climber, to help you have correct technique.
The beginners and intermediate training programs are designed for you to aim for a set time on the machine, in order to build up controlled smooth technique and muscular development.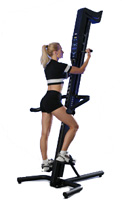 The advanced program is done on distance; you should be aiming for the distance, keeping your speed ideally the same throughout.

The key to developing your fitness on the Versa Climber is to make sure that you use the machine regularly - it may take a little while to get use to the intensity of the workout, however within a very short amount of time you will see increases in both your time / distance covered and also fitness.

When working for long sessions, you may find that changing your hand grip so that your palms are either facing you or facing away, will reduce the fatigue in your forearm muscles.

VERSA CLIMBER WORKOUT FOR BEGINNERS
WEEK

SPEED

F. P.M.

TIME

SECS

TOTAL FEET

REST

SECS

SETS

WK1(a)

(b)

50/80

50/80

90

120

75/120

100/160

60

90

2

2

WK2(a)

(b)

55/85

50/80

120

150

110/170

150/240

90

-

2

1

WK3(a)

(b)

60/90

60/90

120

180

120/180

180/270

90

-

2

1

WK4(a)

(b)

60/90

65/90

150

90

150/225

97/145

90

60

2

3
The following page will provide both Intermediate and Advanced level workouts on the Versa Climber!
comments powered by

Disqus