Balance Test
A balance test may seem a strange test to perform, however once you've performed the test you will soon realise how bad your balance actually can be.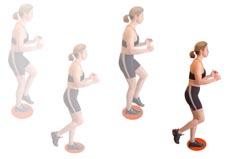 The following image shows you how to lay out your jumping disks for your balance test.

Start at number 1 on your right leg, returning back on your left leg from number 12.

Remember to repeat 3 times each way, adding 3 seconds every time you make a mistake.

As an example a man aged 25 travels up and down in a time of 1 min 27 seconds. Unfortunately he put his foot out of the circle three times, and allowed the other foot to touch the floor twice.
This meant that he incurred 5 penalty points of 3 seconds each. His new time is 1:27 + 15 sec's = 1:42 min's. These penalties have taken him out of the excellent category and into the good for his age group.

If you're an athlete such as Rugby player etc, aim to jump onto firm foam blocks that will throw you slightly off balance on landing.

Doing this method is also an excellent workout. Take care on landing, especially if you have weak ankles, as you can twist an ankle here.

Prior to doing this test you should spend at least 5 minutes warming up your body, ideally with exercises such as skipping and light bounding, followed by suitable Warm-up Stretches.

| | | | | |
| --- | --- | --- | --- | --- |
| MEN | POOR | AVG | GOOD | EXCEL'T |
| BELOW 40 | > 3 MINS | 2:15 / 2:59 | 1:31 / 2:14 | < 1:30 |
| ABOVE 40 | > 3:30 | 2:45 / 3:29 | 1:46 / 2:44 | < 1:45 |
| | | | | |
| --- | --- | --- | --- | --- |
| WOMEN | POOR | AVG | GOOD | EXCEL'T |
| BELOW 35 | > 3:30 | 2:45 / 3:29 | 1:46 / 2:44 | < 1:45 |
| ABOVE 35 | > 4 MINS | 2:50 / 3:59 | 1:56 / 2:49 | < 1:55 |
comments powered by

Disqus