Lung Capacity Test
The lung capacity test will need to be done with either a simple Spirometry lung function test. It measures how much and how quickly you can move air out of your lungs.This test will often be performed by either a Doctor or fitness professional.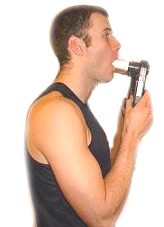 Once you have a reading, use the charts to gauge your performance. Aim to repeat the test three times, and use your best score.

Lung volume is the total amount of air that you can breathe out after taking a deep breathe in.

Lung volume usually depends on your age, sex and height - being largest at around 20-25 years.

Men normally have bigger lungs than women and taller people generally have larger lungs than shorter people.

Factors such as fitness and smoking will also effect your scoring.

The fitter you are, especially with aerobic based exercises such as swimming - running - cycling will all help increase your lung volume.

There is not really a lot worse you can do to your body than smoke - the tar deposits in your lungs, reducing the size of your lungs and greatly impairing the function that you need them to perform.

Quiting smoking will help your body to begin the repair process that you have created and over a short amount of time give you greater gains in both lung strength and volume.

MEN NORMAL VALUES

AGE Þ

HEIGHT ß

18-25

26-35

36-45

46-55

55+

64

580

605

610

575

560

65/67

590

620

615

590

565

68/70

600

630

625

600

575

71/73

610

640

635

610

590

74

620

650

645

620

600
WOMEN NORMAL VALUES

AGE Þ

HEIGHT ß

18-30

31-40

41-50

51-60

61+

58

450

455

445

425

405

59/61

460

465

455

435

415

62/64

470

475

460

445

425

65/67

480

485

475

460

440

68

490

495

485

470

445
MEN

WOMEN

EXCELLENT

+60

+60

GOOD

+30 > +59

+25 > +59

AVERAGE

-29 > + 29

-24 > +24

BELOW AV.

-30 > - 69

-25 > -59

POOR

-70 > - 99

-60 > - 84

CHECK

-100

-85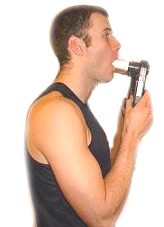 comments powered by

Disqus