Grapefruit Diet
The Grapefruit Diet also known as the Hollywood Diet, was originally developed in 1930s Hollywood.

It gained real popularity in the mid-1970s, This so-called fad diet regained popularity in the mid-1970s with its claim that you can lose up to 3 stone in only 12 weeks.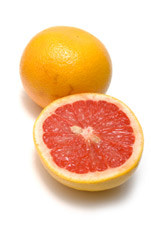 The original Grapefruit Diet, the basics of which are detailed below, is an unhealthy, ultra low calorie plan, and not recommended.

However, a 2004 study led by Dr. Ken Fujioka at the Nutrition and Metabolic Research Center at Scripps Clinic found that simply adding half a grapefruit or a serving of grapefruit juice to each meal resulted in an average weight loss of around 3.5 pounds over 12 weeks.

This appears to be due to grapefruit's ability to reduce insulin levels. For those interested, here are the rules and meals for the original 1970s plan.

Rules for the grapefruit diet:
Eight 8oz. glasses of water daily (required).
Eat until you are full at any meal.
You must eat the minimum listed at each meal. Do not eliminate anything from the diet – these combinations of food are designed to burn the fat, thus omitting any part of the combination will cause the plan to not work.
The grapefruit/juice is crucial – it acts as a catalyst that starts the burning process. Don't add or reduce the amount of grapefruit or juice.
Limit coffee to one cup at meals – it can affect the insulin balance and hinder the burning process.
Don't eat between meals.
You can use butter generously on vegetables and also fry food in butter.
Completely avoid desserts, breads, white vegetables and sweet potatoes.
Eat as much meat, salad and vegetables as you want.
Eat until you are sated. The more you eat the more weight you will lose.
Follow the diet for 12 days, stop for 2 days, then repeat.
| | |
| --- | --- |
| ITEMS YOU CAN EAT | ITEMS YOU CANNOT EAT |
| RED ONIONS | WHITE ONIONS |
| BELL PEPPERS | POTATES |
| RADISHES | CELERY |
| BROCCOLI | PEAS |
| CUCUMBERS | CEREAL |
| CARROTS | CORN |
| LEAF SPINACH | STARCHY VEGETABLES |
| CABBAGE | POTATO CHIPS |
| TOMATOES | PEANUT BUTTER |
| GREEN BEANS | PASTA |
| LETTUCE | CORN CHIPS |
| CHILI (NO BEANS) | JAM |
| MAYONNAISE | SWEET PICKLES |
| ANY CHEESE | PRETZELS |
| HOT DOGS | FRUIT |
| COLESLAW | LOW FAT / DIET SALAD DRESSING |
| REG SALAD DRESSING | . |
| GREEN VEGETABLES | . |
| DRIED NUTS | . |
You can add the following to flavour your food: salt, pepper, herbs, lemon, vinegar, Worcestershire, soy sauce, mustard, ketchup.
The following page will give you a sample weekly menu for the grapefruit diet.


comments powered by

Disqus