Running shoes takeaway the pain
The thought of putting on our running shoes, getting outside and exercising sound less and less appealing as the cold nights draw in. The wintery weather makes it easy to just stay in and curl up on the sofa, but getting into bad habits now is the worse thing you can do. By starting regular exercise now you can avoid the mad rush to lose weight before next summer.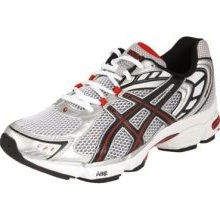 We've all heard of runner's high, haven't we? That magical feeling when endorphins (your body's natural painkillers) are coursing through your veins and you feel on top of the world. But if your running shoes are not up to scratch, that runner's high could quickly turn into a painful low. With any sport, it's vital you kit yourself out with the right running shoes to avoid injury and boost performance at the same time. Here's why ...

No two pairs of feet are the same and we all have different running styles. For example, people with a flatter foot are likely to overpronate while others run more on their toes and might underpronate. If all this talk of pronating is gobbledygook to you, the chances are you are in need of some expert advice!

Enter sportsshoes.com. For over 25 years these leading UK experts have been selling sports shoes and sharing their expert advice with their customers. By analysing different factors such as the width of your foot, your weight, the surface you typically train on and the biomechanics of your running (the pronating bit!) they can advise you on which running shoe is right for you. A lot more goes into finding the right sports shoe than you think!

A great place to start is sportsshoes.com, where you can not only find advice on choosing the right running shoe, but also a wealth of informative articles on football boots, tennis shoes and any other sports related footwear. Did you know for example that the way you lace your sports shoes can have a massive impact on performance? Or that permanently leaving the laces of your football boots done up will decrease heel support over time?

Alternatively, you can pick up the phone for a chat with an expert or visit their store in Bradford, home to a technical running and fitness centre. The store features free Asics Dartfish running gait analysis, which will analyse your natural running style in super slow motion. Football fans can have a go on the boot testing net which features a speed gun as well.

So is all this 'loving your feet' going to cost you an arm and a leg? Not at sportsshoes.com, whose price beat promise and regular online sale mean you can get top notch brands like Nike, Adidas, Asics and Saucony at the cheapest, discount prices.

So whether you buy online, over the phone or in store, make sure you get the right advice before you buy any of the many indoor and outdoor shoes on offer. Once you're kitted out with the right sports shoes, you're ready for your runner's high! (Or any other sports-related rush for that matter).
comments powered by

Disqus