Back Swiss Ball Workout
Working on a Swiss Ball will require the use of a number of different muscle groups in order to help keep your stability.
Avoid performing any of the exercises at speed, as this will simply cause you to bounce, making the action harder to control.

BEGINNERS SWISS BALL BACK WORKOUT

Use the following exercises to help strengthen and develop your back and upper body muscles. Always warm-up and stretch prior to your workout, aiming to work within your own limits - using this workout to progress positively.

Aim to perform 2 -sets of as many exercises as you feel comfortable with, ideally 10 - 12 reps.

Once you can perform 2 complete sets of 10 - 12 reps, look at joining are members area for the next level and a complete selection of new and challenging workouts.


SEATED BAND PULL INS
2 ARM DORSAL
1 ARM PRONE ROW
SEATED LAT PULL INS
REVERSE FLYS

Remember that you will need to use a suitable size Swiss Ball.

The less air within the Swiss Ball the easier it will be to balance.
Use the following simple back stretch between exercises throughout your workout.

1. While seated, exhale, bending forward, and hugging your thighs underneath with both arms.

2. Keep your feet extended out as you pull your chest down onto your thighs, keeping both knees together.

3. While in this position, you can also stretch your rhomboids, by aiming to pull your upper back away from you knees while still grasping your legs.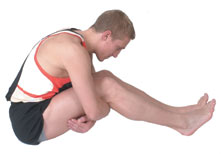 comments powered by

Disqus